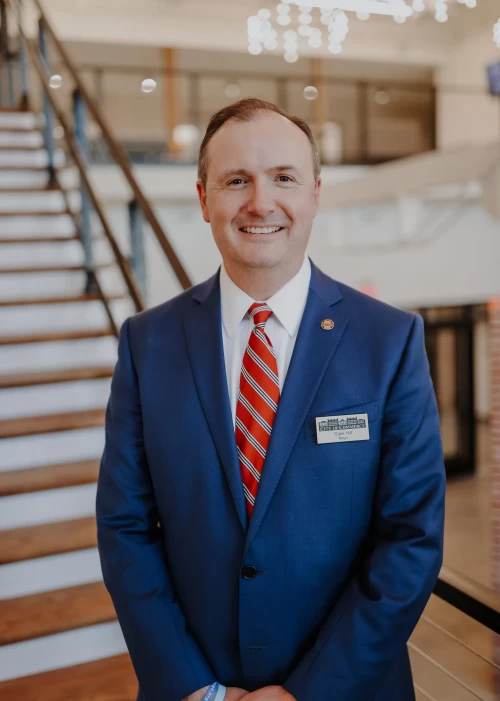 Dr. J. Clark Hill, III. Mayor
---
About:
J. Clark Hill III has been serving Commerce as Mayor since 2012. A native of Homer, Mayor Hill graduated Valedictorian from Banks County High School in 1989. He received his BA in Biology/Chemistry from Oglethorpe University in Atlanta in 1993. He is a 1997 graduate of Mercer University School of Medicine and completed a residency in Internal Medicine at Atlanta Medical Center (Georgia Baptist) in June of 2000. He moved to Commerce in 2001 to start a practice in Internal Medicine. Dr. Hill owns Hill Medical Group, PC with offices in Commerce and Homer.
Dr. Hill is married to Doreen (Hart) from Savannah. They have three daughters: Emily, Maggie, and Callie who have all attended the Commerce School System. Emily & Maggie are both currently attending Clemson University. Callie is attending Commerce High School.
Dr. Hill proudly served on the Commerce Downtown Development Authority (beginning in 2005) and was the Chairman of the Board before he resigned from the post to run for Mayor. He is a 2003 Leadership Jackson County graduate, current member and past president of the Commerce Kiwanis Club, graduate of the Georgia Economic Development Academy, and has earned his Certificate of Achievement for Elected Officials through the Georgia Municipal Association. He is a member of Leadership Georgia Class of 2015. He served as District 5 President for the Georgia Municipal Association from 2017-2018. Before becoming Mayor, Dr. Hill also served the City as a Councilman.

In addition to being active in local government, Dr. Hill was part owner and served on the Board of Directors for Northridge Medical Center, served on the Board of Directors for the Jackson County Chamber of Commerce, served on the Board of Directors for First Georgia Bank and served three years as President of the Georgia Medical Directors Association. In 2011, Dr. Hill was selected for Georgia Trend Magazine's 40 under 40.
Current Term - 2020-2023